Brunel Swivel Bridge News
NEWS RELEASE January 2022
Bristol Western Harbour Heritage Assets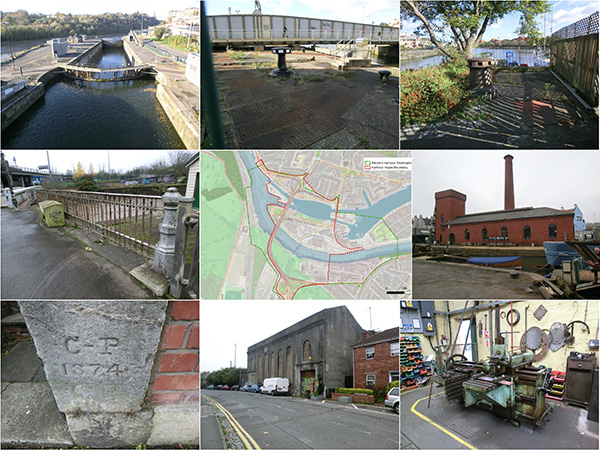 In 2021 a Bristol Civic Society working group was set up to identify heritage assets in the Western Harbour development area.Members: Geoff Wallis. Pauline Mousley. Julian Baldwin, and John Willis.
The information is presented on a web site which provides a location map, asset images, alternative names, history summary. and links to other information for each asset. The assets are indexed by name, alias, and map location.
bwhha.wordpress.com
There is a lot of useful information on the site but it is a work in progress. The group is currently reviewing and summarising the source documents and anticipate completing the web site later this year.
NEWS RELEASE 17th December 2021
The BOB Christmas Newsletter has been published with details of a grant and provisional work party days. Download it
here
NEWS RELEASE 12th May 2021
It's been almost 10 months since we were able to work on ther bridge, but now as Covid restictions begin to be eased we can now restart our working parties. The first will be on Saturday May 29th. We will be on site to paint out graffiti,repair the damaged protective roof, remove vegetation and tidy up the site
No experience is necessary but we'd love for you to join us from 0930.

NEWS RELEASE 2nd September 2020
Geoff Wallis has been interviewed by Alice Hall of Bradley Stoke Community radio for 'Backtracker'.
Backtracker is on 5.00-6.00pm on Saturdays and on Thursday at 10.00am on FM103.4.
For their schedule see Bradley Stoke Radio schedules
All their past programmes can be heard free as podcasts on Anchor FM backtracker programmes
NEWS RELEASE 20th August 2020
BOB awakes with a celebration!
Our next event will be on Saturday 29th and it will be a very special occassion.

We'll work from 10.00am to lunchtime and then have a low-key, socially-distanced celebration at 2pm to recognize the contribution Maggie Shapland and Mike have made to the BOB project.

Maggie and Mike were amongst the founders of the BOB project in 2013. They designed, had made and erected the two boards on the sides of the Bridge and organized the popular display boards on stands nearby. Mike loaned an essential air compressor to help remove rust and had the two steel covers made for the restored timber stops, which he installed. They publicized BOB in BIAS and encouraged members to get involved practically. Maggie set up and maintained our volunteers' database and log of attendees, and the BOB website. Maggie inputted masses of photos and information to the web-site which has promoted the project wonderfully. She has recently handed this over to Dominic Hewitt so now is the appropriate time to say a big 'THANK YOU Maggie'.

We want to pay tribute to Maggie's commitment to the Project. In addition to the above, Maggie is the person who was always found under the Bridge in the 'difficult' areas, clearing up, weeding, even laying flat raking out under the four big wheels, for which she brought along a special long-handled spoon-like implement. Maggie always took on the jobs that really needed doing, not just the easy ones.

So, come and join us for the work-party at 10am or the celebration at 2pm. Our 10am work will be preparing the site for Doors Open Day in September, removing vegetation and sweeping up, so please bring your own gardening tools, gloves, stout shoes/boots, and something to kneel on. We'll provide high-viz vests and helmets. We hope to have time to check the alignment of the tail-wheels following our trial move earlier this year, and do some work in the pits. It is possible we may also be able to rotate the deck a little.

For the celebration please bring a packed lunch and cup for drinks which we'll supply, wear a face-mask and keep 2m away from others. We'll provide hand gel which you should use on arrival and departure, and if you share tools. If you would like to wear a face-mask all the time, please do so. It help reduce the risk of transmission, and don't worry, no one will comment.

The BOB display boards and a few artefacts will be on show, and If you would like to bring along other display boards, items of interest, models, etc, please do.
Youngsters are very welcome, but do need to be supervised by a parent or adult guardian at all times.
NEWS RELEASE 4th July 2020
We hope to be able to run working parties again starting in August. Details here
NEWS RELEASE 22nd September 2019
Good news after five years work! On Saturday 21st September our team of volunteers moved the Bridge, not far, but enough to prove that the work to the turntable and wheels supporting the Bridge has been successful. What a great way to celebrate BOB's 170th Anniversary !
The metal structure of the deck is not in a condition in which it can be swung across the working water-way, and we have been careful to keep it away from the edge of the Dock during trials. However, we now have an idea of the loads required to rotate the structure, information which was needed to refine the design of the new drive equipment that will eventually be required to rotate it.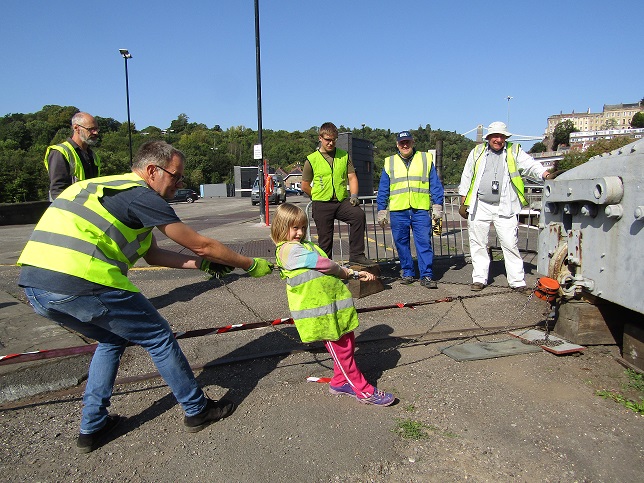 Securing the future of Brunel's swing bridge
On 10 September 2019 a new collaboration between the AIBT and SS Great Britain Trust was announced, see Securing the future of Brunel's swing bridge. Together we shall look at the longer-term future of the Swivel Bridge in the context of the Western Harbour scheme and a possible resiting to Albion Dockyard. So, exciting times, do 'watch this space' ...and of course this our website.
Birthday Celebration
BOB's 170th BIRTHDAY CELEBRATION Sat 7th- Sun 8th September 2019 10.00 am -4.00 pm BRUNEL SWIVEL BRIDGE, CUMBERLAND BASIN, Bristol BS1 6XS
| | |
| --- | --- |
| The Swivel Bridge surrounded by water when viewed from the Plimsoll Bridge | At least we know the drain holes are working and where they are! The Bridge gets a wash in the 1st February 2014 floods |
Funding News will be found on the year's Project pages
Donations
PLEASE HELP US SAVE BRUNEL'S OTHER BRIDGE. WE HAVE GIVEN UP OUR TIME WILLINGLY TO SAVE THIS FORGOTTEN GRADE II* LISTED BRIDGE. PLEASE HELP US BY PROVIDING DONATIONS LARGE OR SMALL.

JUST PRESS THE BUTTON. EVERY LITTLE HELPS. AND PLEASE SPREAD THE WORD AROUND TOO.

You can make a donation using a charity website. The main donation link now uses the Wonderful fundraising website:


https://www.wonderful.org/charity/avonindustrialbuildingstrust
mydonate will stop woking in June 2019
or you can send a cheque payable to
Avon Industrial Buildings Trust to:
The Treasurer,
24, The Bluebells, Bradley Stoke, Bristol BS32 8BE
Bank details for bank transfer:
Account name: Avon Industrial Buildings Trust
Account address: CAFCASH LTD
Kings Hill
West Malling
Kent ME19 4TA
Sort code: 40-52-40
Account number: 00006720
AIBT, the lead charity for BOB was featured on the front cover of this years Register for their work on Brandy Bottom.
Register 2016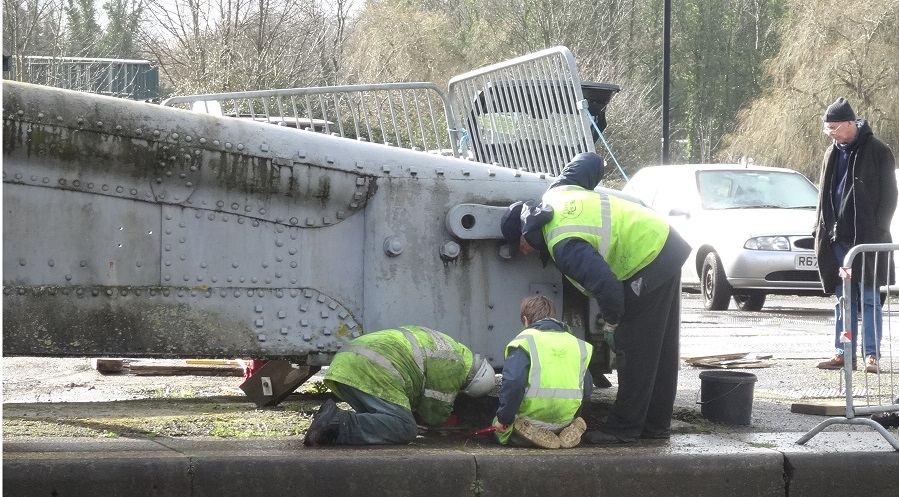 Alf died peacefully on Wednesday evening, 2nd November 2016 after a cardiac arrest on Friday. He did not regain consciousness and suffered no distress. The family were all with him.
Alf left an enormous legacy of achievements in the historic harbour and wider afield. However he had not finished this work; and with his usual farsighted vision, he was still working towards improving and enhancing harbour facilities.
He was involved with the restoration of the Brunel Swivel Bridge (known as BOB, Brunel's other bridge), which lies disused under the Plimsoll Bridge. It has proved a difficult project, and a major scheme failed about 8 years ago. So a small group of us has been working to develop a new project, and Alf has been a key player in this.
Alf was a valued member of our Technical Team from an early stage in the project, providing encouragement from his vast knowledge and experience. He provided useful technical information about the historic hardware surviving in the City Docks, and about other bridges in the UK and abroad. Geoff Wallis describes Alf as 'a thoroughly reliable structural engineer of vast experience, particularly in relation to bridges of all types. He made quick and wise decisions if he had sufficient information, and if not he would ask the right questions, judging the validity of answers carefully. He was a gentleman at all times, and had a great sense of humour.'
However it was his experience of recent regeneration and conservation projects that was also invaluable to us. He was a true expert, and shared his wisdom and expertise with modesty and a light touch.
Alf gave valuable advice on how to develop a scheme that would be attractive to the Heritage Lottery Fund, and helped fill in the necessary forms. He and I had just finalised an initial application form to the Heritage Lottery Fund, and when I got their positive response last week, my first thought was to phone Alf to tell him.
He brought valuable experience of fund-raising and provided the names of useful contacts in many local organizations. He was a skilled 'politician' and was using his experience and networks to engage representatives of the city council in the bridge project. We will feel his absence terribly.
Michael Bussell wrote "I'd known him for quite a while, firstly when we both worked at Ove Arup & Partners, and later after he had set up his own consultancy. We shared a practical interest in 19th century engineering: we were in the Arup team that bid for (and did some) work on the SS Great Britain and its dock a while back, while more recently I was a sounding board for his thoughts on the scheme to repair / restore the splendid Victoria Bridge in Bath, and the Bristol Underfall Yard development plan. He also served of course as a Trustee of the Clifton Suspension Bridge - the third trustee I have known, after my Bristol Civil Engineering 'pedagogues' Professor Pugsley and Stuart Cullimore. And I believe he was involved with the Swivel Bridge.
"I heard the news via Arups. I shall miss his creative thinking and our lively discussions.
He was not a member of BIAS, but he contributed much to the understanding and conservation of engineering landmarks in the Bristol region.
8 AprilThe funding period for this project on the Coop Local Community Fund finished. We have been awarded a total of £2,135.16
21 Sept 2016: The Brunel Swivel Bridge has been selected to receive funding from the Co-op Local Community Fund. It means that we will get a contribution towards restoring the bridge. But we need your help. The more support we get, the more funding we could receive. So if you're a Co-op Member log in to your Co-op Membership account and choose us. If you're not a member, please join and support us! https://causes.coop.co.uk/promotional-guide for more details
Every time members choose Co-op branded products and services and use their Co-op Membership card (subject to Membership T&Cs) 1% of what they spend will go to their chosen cause. You can now see the cause profile on the Coop membership website. https://membership.coop.co.uk/causes/1505
Publicity 2016
Sept 11th SUN 10am – 4pm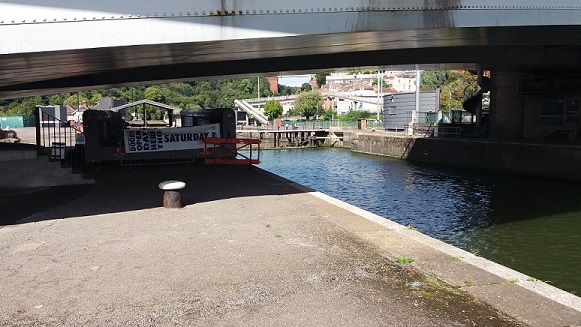 Doors Open Day
130 visitors came to see conservation work taking place on Brunel's wrought iron opening bridge and view the test plates that were hot riveted on site. Unfortunately the location was wrongly given on the leaflet so many people told us they had great difficulty in finding it. 25 booked for a guided walk from ss Great Britain at 2pm. We received many positive comments about our work. Donations very encouraging, as was the feedback from visitors.
August 2016: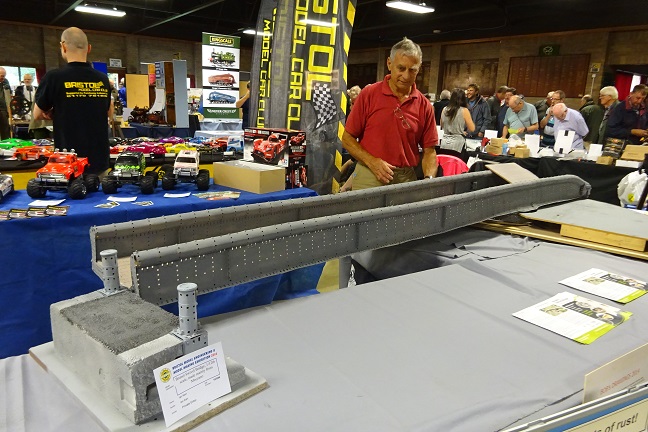 Ian displayed his wonderful 9' model of the bridge up at the Model Engineers Show in Thornbury for three days. It raised the profile of the bridge
June 2016: Brunel's Other Bridge an article written by the Bristol Magazine
23 feb: Bristol Post BOB Mentioned in article about Bristol's Bridges and refers to our website. "Lies disused on Cumberland Basin. It was designed in 1849 by Brunel to carry traffic over the new South Entrance Lock ('Brunel's Lock') in the Cumberland Basin. Brunel himself was closely involved in its design and construction. It was decommissioned in 1968 after the construction of the Plimsoll Bridge, and volunteers are now working to preserve it."
January: Bristol City Council has recently produced "Our Inherited City - Bristol Heritage Framework 2015 - 2018" which proposes establishing a community based heritage forum in Bristol. Report (on Page 42 of this 76 page document the Swivel Bridge is featured as good showcase project of how a local group, Historic England and the Council have worked together)
Publicity 2015
12 September:
A good stream of visitors all day and the total head count was 222 (compared to 158 in 2014) and many signed support sheets.
8 September:
Doors open day on 12 september. Guided walk from SS Great Britain was oversubscribed, but the volunteers are there all day from 10-4. Bristol Post gave us a plug.

5 August:
Maggie Shapland and Geoff Wallis were winner and runner up in a
Brunel photographic competition
in the over 14 class (other classes were under 14 and hobbyist). The competition was to celebrate the life of Brunel by photographing one of Brunel's seven sites in Bristol.
The winning images were displayed at Redgrave Theatre during all showings of 'The Engineer's Corset' and on the Clifton Suspension Bridge website. This was in association with the Clifton Suspension Bridge Visitor Centre to mark the 150th Anniversary of the Clifton Suspension Bridge.
The Engineer's Corset is a new play about one of Bristol's most famous engineers - Isambard Kingdom Brunel! It plays at the Redgrave Theatre from Wednesday 5th – Saturday 8th August.
The Engineer's Corset is based on a true life event in the Brunel household. When Isambard swallows a coin, after playing a familiar game with his children, his wife Mary waits anxiously as her husband's life hangs in the balance. Victorian England is revisited while Brunel, on his death-bed, designs a swinging frame to help release the obstinate coin. It is a true story; one that will remind you of Brunel's genius while also revealing some little known local history. With a cast made up entirely from the local community this is a play for Bristol about Bristol to celebrate Bristol's heritage. Presented by Louise Matthews Productions Ltd, Janet Goddard and Chantry Dance Company.
| | |
| --- | --- |
| | |
| The winners standing by their photographs. Warwick Hulme owner of City Sightseeing Bristol on the right | Geoff standing by his photograph |
July 8:
There was a Mayoral visit to Cabot, Clifton and Clifton East Neighbourhood Partnership area accompanied by our 4 Councillors, and the chairman. The route included a trip to the swivel bridge. Mary, Mike and Martyn were there to discuss the project with them and funding opportunities. All the issues raised with the Mayor are being collated and an action plan devised to follow up on those issues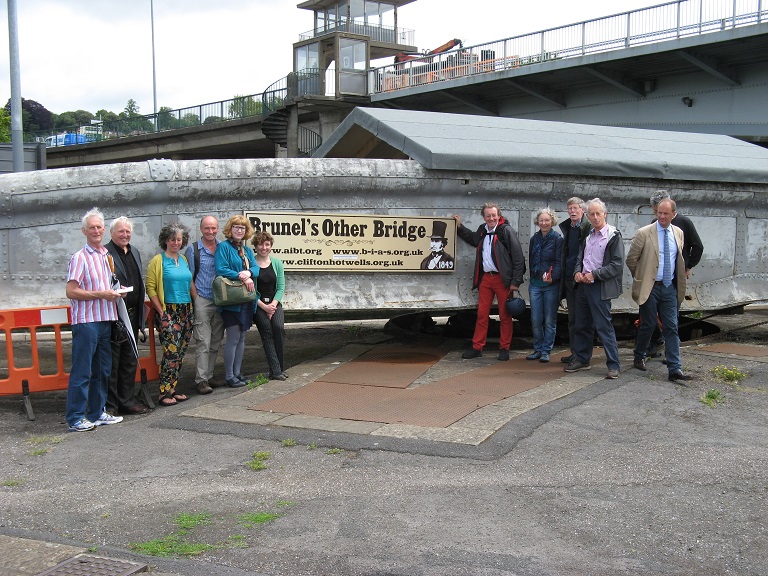 June 4 2015:
Maggie talks about the project on Lawrence Hill Radio Show BCfm (Bristol's first community radio Station).
http://bcfmradio.com/schedule
Thursday 4 june 10am (on the silver sound 1 hour slot). Will be available to listen to for 3 months. For music interludes they had "bridge over troubled water" and another "bridge" tune
May 2015:
The Institute of Historic Building Conservation
published an article by Geoff Wallis about progress and challenges of the project. The journal featured Working with Metal projects.
January 2015:
B24/7 magazine
Bristol Post 13 January 2015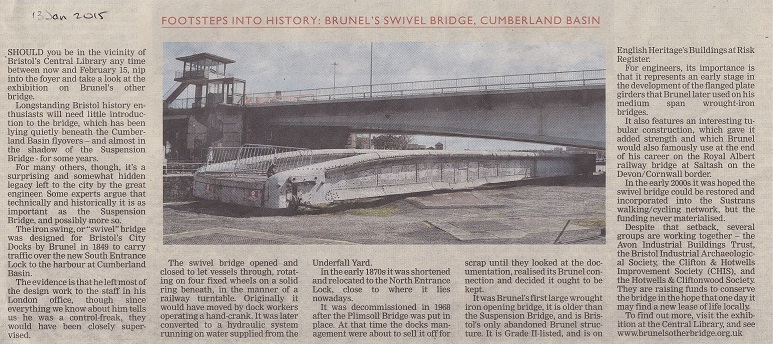 Being Brunel. Notes from a Civil Engineer
Saving Brunel's Other Bridge
Made in Bristol TV channel 9 December 2015
Exhibition moving to the Create Centre
From 16 February to April, the exhibition can be found in the Create Centre in Smeaton Road BS1 6XN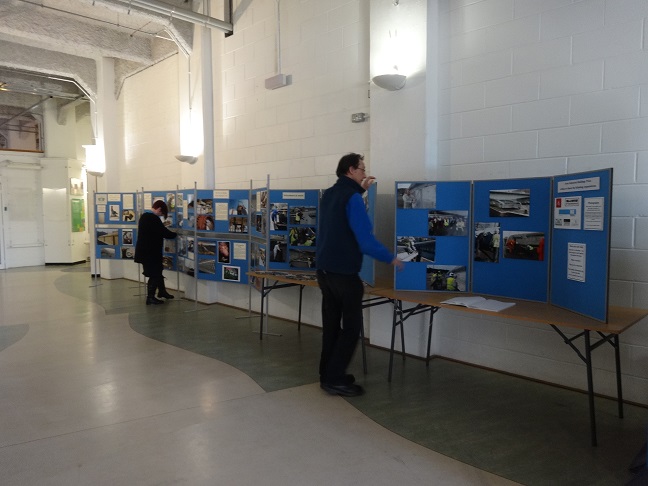 Senior Create officer Michelle Scoplin and Create officer Phil Tomlinson checking the display. It may well be able to stay after April.
Mon to Fri 9 – 5
Exhibition
5 January to 15 February 2015
There will be an exhibition about the Swivel Bridge in the foyer of the Central Library, College Green with photos through the ages, drawings, work progress, and giving an opportunity for fund raising for our next stage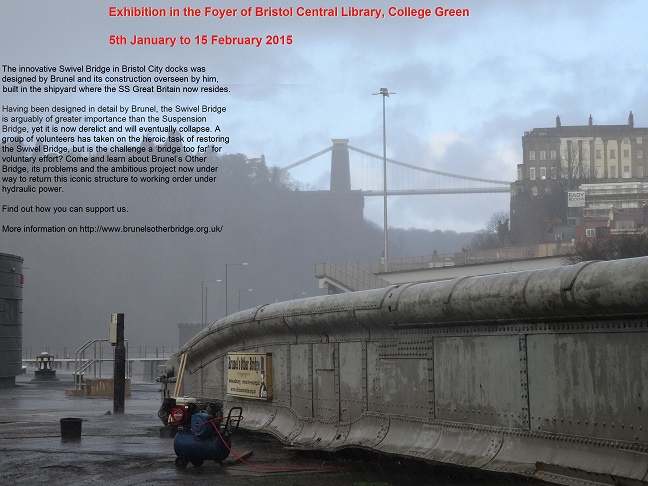 IStructE Tuesday Group Evening Talk on Brunel's Other Bridge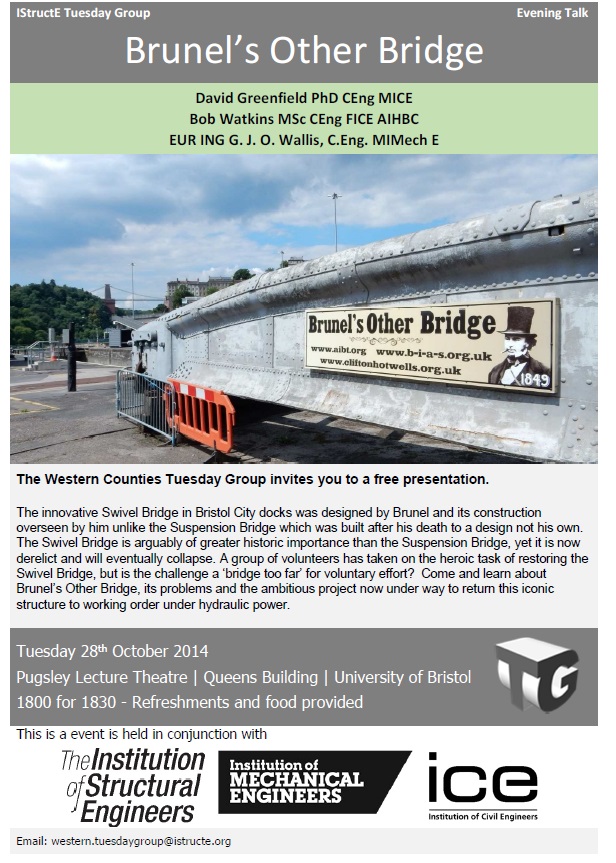 Tuesday 28th October 2014
Pugsley Lecture Theatre | Queens Building | University of Bristol
1800 for 1830 - Refreshments and food provided
Poster
Recollections of George Waite I Eng.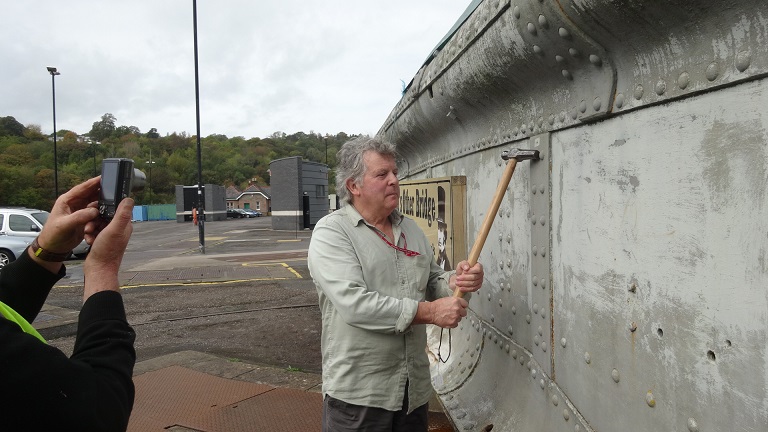 On the 18th of October 2014 at a Brunel's Swing Bridge work day, we were privileged to hear
George Waite
talk about his memories of rivetting, and boiler making, and point out features of the Bridge rivetting.
Interview on Made in Bristol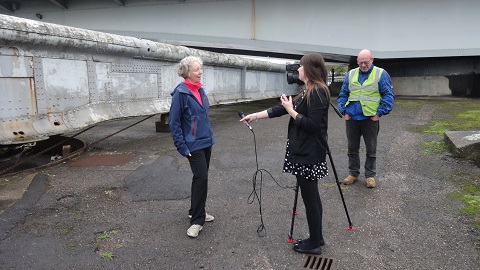 Mary being interviews by Rachel, Mike Taylor in the background prompting
13 October 2014
: Rachael Clarke, a video journalist for Made in Bristol TV - the new channel that launched this month wanted to cover our campaign to raise money and ask for help for Brunel's Other Bridge. It is a great opportunity to share the campaign on local television.
She interviewed Mary Stacey as our representative to tell the people of Bristol about it. It was shown at 6pm and 9pm and will also be shown at the weekend at 6pm. They have noted down to do a follow up on our campaign as they think it will be great to see the progress. If we have any extra information or anything that will be happening with the future of the bridge we have agreed to get in touch.
Rachel will repackage it the interview when she gets a chance so we can put it on our website.
Interview on Radio Bristol
10 October 2014
: Mary Stacey was interviewed on Radio Bristol by Nigel Dando just before 8am this morning.
BBC news:
Brunel's other bridge in Bristol may be repaired as £1m appeal launched
Mary said how important the bridge is, how we want it to be valued as an integral part of the Brunel legacy in Bristol, how neglected it has been, thanks to EH for the current funding, support from BCC, wonderful volunteers, we need £1m!!!
It was broadcast from the Bridge itself, competing with road noise but it was clear and concise. The website showed an immediate increase in hits. Lets hope the benefactor(s) come forward.
Doors Open Day Saturday 13 September 2014
Participating in
Bristol Doors Open Day
on Saturday 13 September 10-4 for the first time for many years. Bristol Doors Open Day is a once-a-year chance to look behind closed doors and discover the city's hidden treasures. You can explore fascinating buildings, join guided tours and enjoy a range of events and activities – all free for the day. With over 60 venues taking part this year – the event's 21st birthday – join us for a fantastic celebration of Bristol's history, architecture and culture.
Contact brunel@brunelsotherbridge.org.uk if you wish to join a Guided walk at 14:00 from SS Great Britain to the Swivel Bridge with Mr Brunel
Swivel Bridge Plans
18 August 2014: Bob Watkins who is a Fellow of the Institution of Civil Engineers has produced some wonderful plans and elevations which aid our understanding. These are now on this website.
Planning Application
Application No.
14/03711/CPLB
Date Received 23 July 2014
Date Registered 5 August 2014 Granted
Type of Application Cert of Lawfulness - proposed - LBC
Site Address Brunel Swing/Swivel Bridge Merchants Road Hotwells Bristol
Proposal Application for a Certificate of Proposed Development (Listed Building) - proposed works to give greater protection to the structure and prepare for future works to restore the bridge.
Applicant Avon Industrial Building Trust Ltd
Case Officer Guy Bentham-Hill Tel No. 0117 9222345
Thursday 27th February 2014
BIAS
talk at Keynsham British Legion, Charlton Road, Keynsham BS31 2JA.
David Greenfield talked about the new research into the history and heritage, and Geoff Wallis about recent aspects and refurbishment of the Brunel Swivel Bridge.
Saturday 15 February 2014
Used our two 50 ton hydraulic jacks, one bought by BIAS, the other by CHIS to jack up sections of the bridge
---